Mission & Vision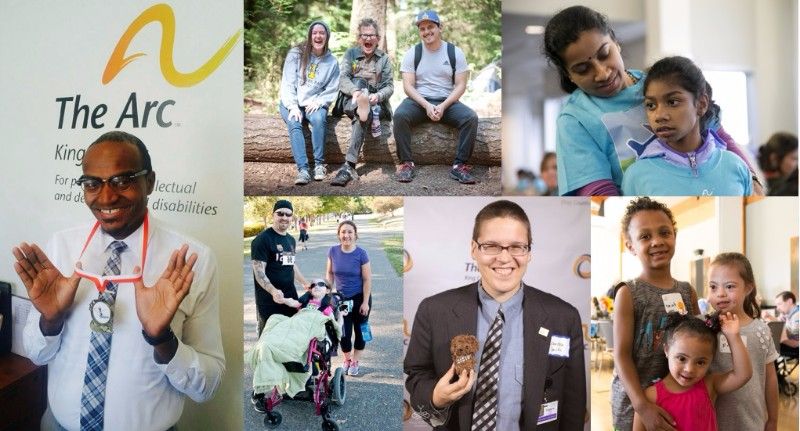 Our Mission:
The Arc of King County promotes and protects the rights of people with intellectual and developmental disabilities so they can live, learn, work and play in the community – improving the quality of life for us all.
Our Vision:
A world where children and adults with intellectual and developmental disabilities thrive as equal, valued and active members of the community.
Our Values:
Choice
Opportunity
Partnership
Self Determination
Inclusion
Diversity
Equality
Sustainability
Independence
---
Our History
We believe everyone has a right to live they life they want, in the community of their choice.
The Arc of King County formed in 1936 as the Children's Benevolent League after parents connected through a newspaper ad. They wanted to support each other and improve the quality of life for their children. There was little understanding of what we now call intellectual and developmental disabilities (IDD) and children with these conditions were sent to institutions, often on the advice of doctors.
From these grassroots origins, parents created support systems and started the long journey to change perceptions about disabilities and secure housing, education, healthcare, and employment in the community for their loved ones. They refused to accept institutionalization as the only option.
Today, we continue the work to dismantle exclusion and build inclusive communities, but with a broader base led by individuals living with disabilities, their family members, professionals, and others who share our vision. The Arc of King County is one of 730 chapters nationwide, and one of 10 in Washington. Together, we promote and protect at the local, state, and federal levels so people can live the lives they want in the community of their choosing.
The journey is far from over, especially for people at the intersection of disability and race. People with IDD still have some of the lowest life outcomes of any marginalized group. Our community is:
More likely to live in poverty
Be under or unemployed
Experience homelessness, and
Be the victims of abuse
Accessing resources can be complicated, and standing up for your rights challenging. But every year we educate and serve thousands. We offer direct support, help people navigate systems, and then improve them.