The Arc Legacy Center: An Innovative Hub of Consolidated Services and Affordable Housing for the IDD Community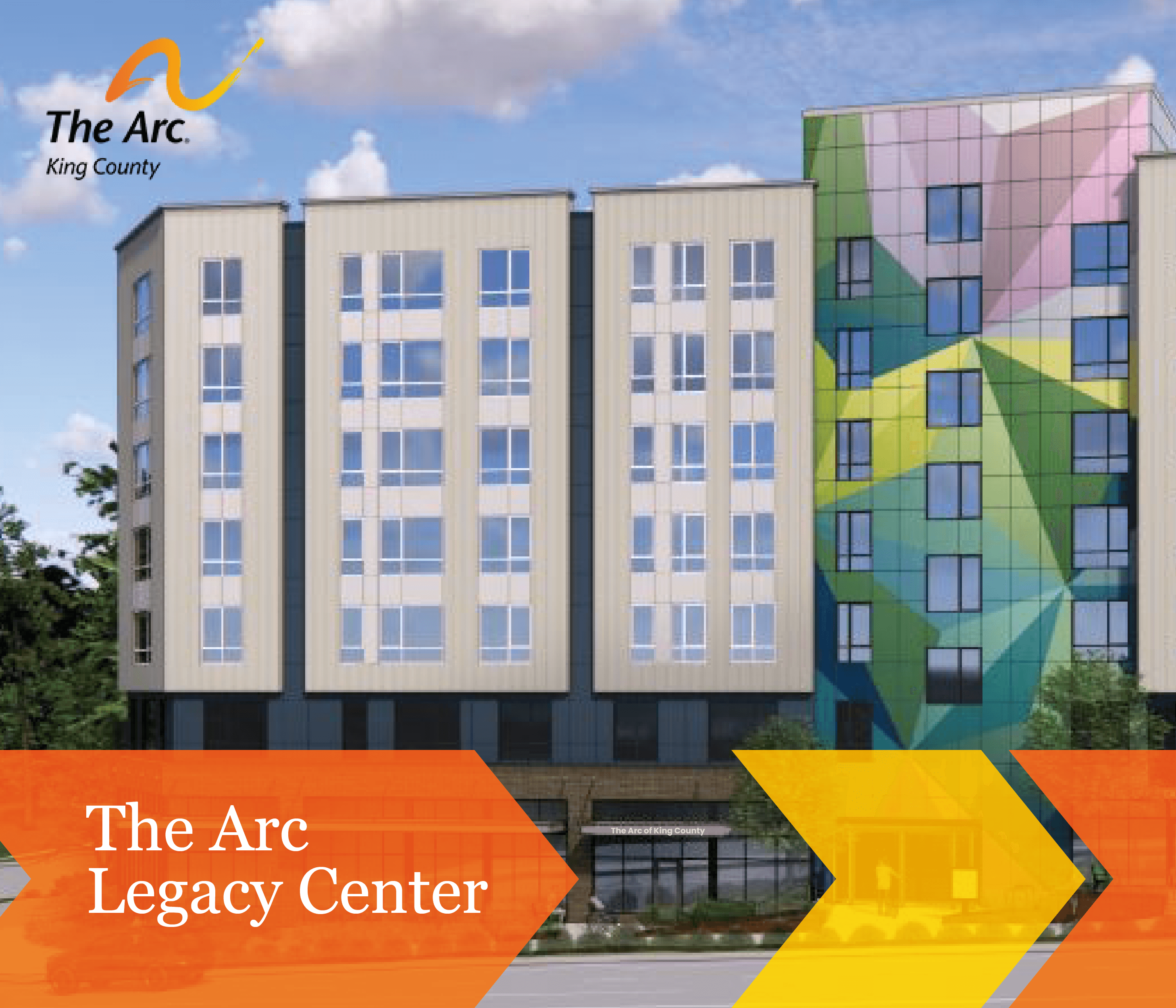 Help us build our new home
The Arc of King County and Mercy Housing NW are partnering to create the Angle Lake Family Housing complex, a 7-story building nestled next to the Sound Transit light rail station at Angle Lake in SeaTac. This partnership is the first of its kind in the state and creates a new model for integrated, permanently affordable housing with expanded accessibility and supportive services for individuals and families with intellectual and developmental disabilities (IDD).
When complete, the complex will provide 130 affordable, energy-efficient apartment homes, with 26 reserved for individuals and families with IDD, referred by The Arc of King County. The ground floor will house The Arc Legacy Center, our 11,000 square foot permanent headquarters, providing consistent access to resources and services for residents and the broader community. The transit-oriented development will offer residents easy access to services, schools, employment, and rapid transit connections.
"Not only are we breaking ground, but we are making history with this innovative project."
- Robin Tatsuda, Executive Director of The Arc of King County.

At 11,000 square feet, The Arc Legacy Center is our largest office space yet and is designed to support our staff and program needs while also allowing for greater community gathering. Accessibility and sensory amenities beyond ADA requirements are present throughout the building. This will be a permanent and stable nexus for the work we do and the services we provide.
This is a pivotal moment for The Arc of King County to begin addressing the affordable housing crisis. The Arc Legacy Center brings us closer to a world where people with IDD thrive as equal and valued members of the community.
Our vision for the future is only possible with your support. Help make this vision a reality by donating today.