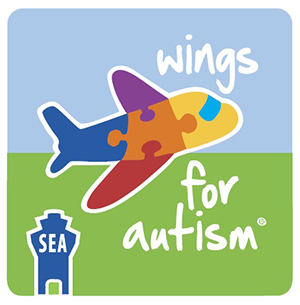 Wings for Autism®
---
The Arc of King County, in collaboration with The Port of Seattle, Alaska Airlines, and Transportation Security Administration (TSA), hosts Wings for Autism® at Seattle Tacoma International Airport.
Wings for Autism®, one of The Arc's national initiatives, is an airport rehearsal specially designed for individuals with autism spectrum disorders, their families and aviation professionals.
Wings for Autism® is designed to alleviate some of the stress that families who have a child with autism spectrum disorders experience when traveling by air. The program provides families with the opportunity to practice entering the airport, obtaining boarding passes, going through security, and boarding a plane.
Wings for Autism® also gives airport, airline, Transportation Security Administration professionals, and other personnel the opportunity to observe, interact, and deliver their services in a structured, learning environment. 
---
Information for 2019 events will be distributed by email and our social media channels. Add The Arc of King County on Facebook to see Wings for Autism® updates, and to be apart of our email list please sign up on the form below! 
If you have any questions about Wings, please contact Stacia Irons.
If you have any questions about sponsoring Wings, please contact Marci Asher.