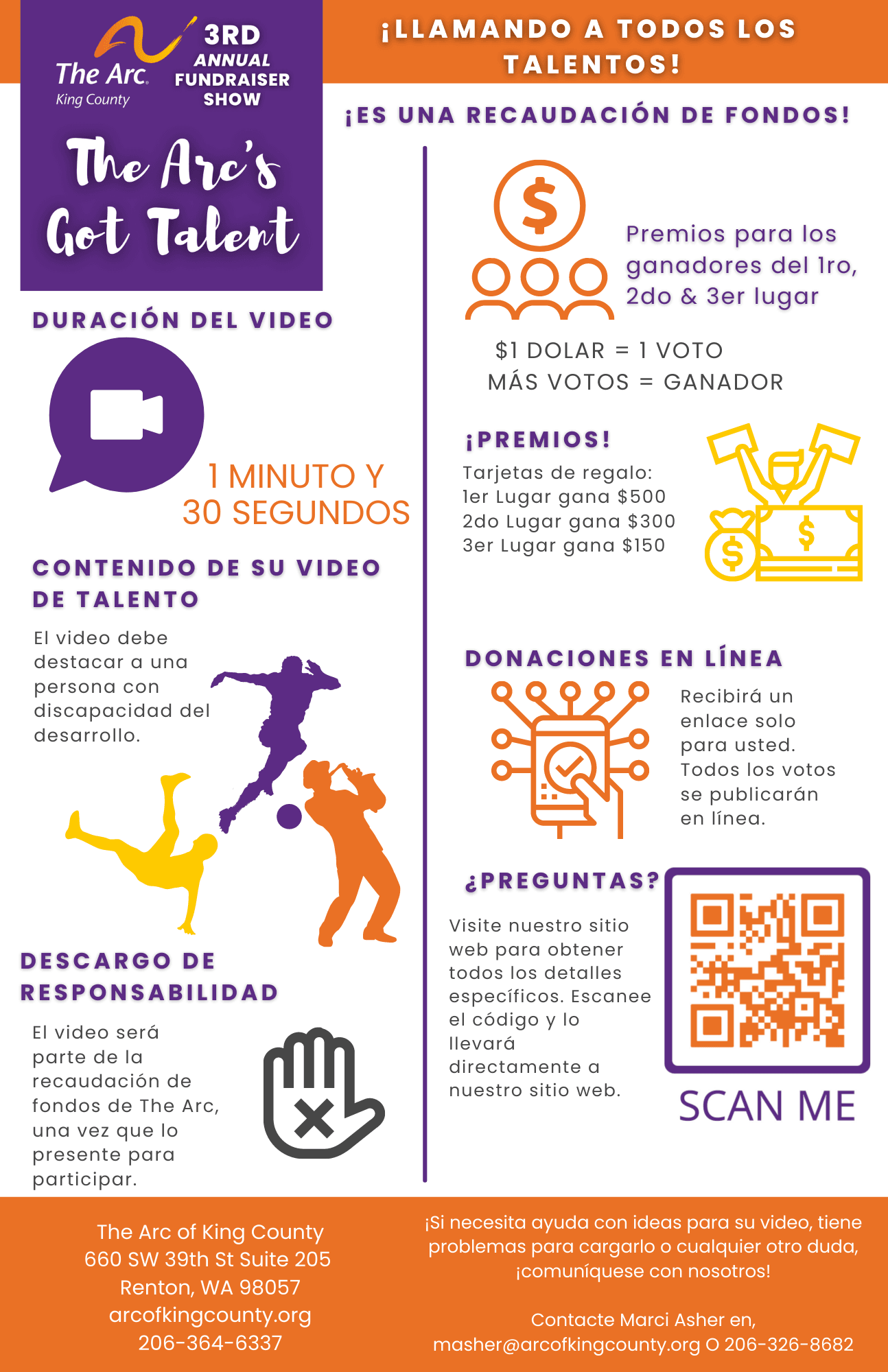 Duración del video: 1 minuto, 30 segundos
La duración del video es de hasta 1 minuto y 30 segundos. Puede durar menos de 1 minuto y 30 segundos, pero no se aceptarán videos de más de 1 minuto y 30 segundos.
Envíe el video por correo electrónico a development@arcofkingcounty.org O envíe el video en una memoria USB. Para enviarlo por correo postal envieleo a: Developmental Departament, 233 6th Ave N, Seattle, WA 98109.
Contenido de su video de talento
El video puede contener cualquier tipo de talento, incluidos, entre otros, los siguientes: cantar, bailar, tocar un instrumento, leer un poema, una muestra de sus creaciones artísticas o cualquier cosa que pueda imaginar.
El video DEBE destacar a una persona con discapacidad. Puede tener 1 o 100 participantes. La atención debe centrarse en la persona con una discapacidad del desarrollo. Otros participantes en el video pueden incluir a cualquier persona, lugar o cosa que deseen.
Retiro toda responsabilidad
El video se convertirá en parte de la recaudación de fondos de The Arc, por lo que le dará a The Arc of King County la libertad de usar el video de la forma que elijan, como en nuestras redes sociales, correo electrónico, comerciales y el sitio web de The Arc of King County.
¡Es una recaudación de fondos!
El video que haya recibido más votos a través de donaciones será el ganador del concurso de talentos.
El talento real no será juzgado, ganar en realidad es recibir la mayor cantidad de donaciones en dólares que apoyarán a The Arc of King County.
Los votos son donaciones que pueden incluir patrocinio o compras de mesas virtuales.
Los 10 videos que tengan más votos el 30 de septiembre a las 5:00 PM serán promocionados en la recaudación de fondos del programa de talentos el sábado 2 de octubre de 2021. El evento será en vivo pero los videos serán pregrabados.
¡Premios!
El video que recaude la mayor cantidad de fondos gana el primer lugar, que incluye una corona, una tarjeta de regalo Visa de $ 500 y se destacará en nuestro sitio web durante 1 año.
El segundo lugar gana $ 300 en tarjetas de regalo.
El tercer lugar gana $ 150 en tarjetas de regalo.
Donaciones online
Una vez que envíe su video, recibirá un enlace que puede compartir con sus amigos a través de las redes sociales, listas de correo electrónico o cara a cara para recaudar fondos. Cualquier donación que The Arc of King County reciba en su enlace se contará como un voto. The Arc of King County necesita que todos los participantes del video le pidan a sus amigos y familiares que lo ayuden a ganar donando a The Arc of King County a través del enlace especial que le proporcionamos. ¡Un dólar equivale a un voto!
Preguntas
Si necesitas ayuda para pensar ideas para tu video, si tienes problemas para cargarlo o cualquier otro problema, comunícate con nosotros. Póngase en contacto con Marci Asher por correo electrónico, masher@arcofkingcounty.org O 206-326-8682
---
Mira el video del show de talentos de Robin y Eric