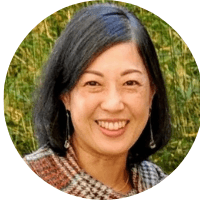 Tamiko Nakatani Nietering
Director since 2021
Tamiko was born in Osaka and graduated from Doshisha University in Kyoto, Japan After some years of teaching English in Japan, she and her husband relocated to Seattle in 2009. Here, she worked for years as a paraprofessional at a preschool for children with I/DD disabilities. This is where she found her passion in working as an advocate for underserved communities, specifically families of color who often don't have access to information and services because of their language and social barriers. 
She's mother to two daughters who were born prematurely and that experience motivated her even more to work with families and organizations that support equity, inclusion, racial, and social justice. She's worked as a program coordinator for multiple grant based projects and organizations serving BIPOC families in King County. She currently works for the Seattle Children's Mindfulness and Compassion program with parent leaders who deliver culturally relevant programs to families who have children with I/DD disabilities. 
In her free time, she enjoys spending time with her family, calling her mother in Japan, cooking, gardening, meditating, and exploring new parks in this beautiful state of Washington.