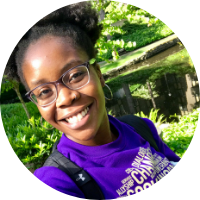 Adanna Abakporo
Equity and Engagement Facilitator for Lake Washington School District
Director since 2021
Adanna Abakporo (she/her/hers): Adanna has been on the Board of Directors for The Arc of King County since April 2021. Adanna has been connected with The Arc since she was a practicum intern while in her graduate program from 2018-2019. 
Adanna was born and raised in Seattle, WA and is first-generation Nigerian-American/Black. Adanna has a deep passion for equity, inclusion and social justice (specifically racial and disability justice) and that is due to her personal and professional experiences. Adanna has two siblings with disabilities - a younger brother who is Autistic and a younger sister with a Developmental Delay.  Adanna has had professional experiences for the past 11 years with being a caregiver for her siblings and other individuals with disabilities, working as a program coordinator - implementing programs for young adults with disabilities from immigrant/refugee backgrounds, working as a job coach supporting transition-aged youth with disabilities and most recently was a case manager for DDA (Developmental Disabilities Administration). With Adanna's experiences, her passion had and continues to increase to supporting her family, her community and other underserved communities. 
Adanna graduated from the University of Washington in 2015 with two degrees in Disability Studies and Social Welfare. Adanna also graduated with her Master's in Social Work (MSW) in 2019. Adanna is currently an Equity and Family Engagement Facilitator for the Lake Washington School District in Washington State and a Freelance Equity Consultant.