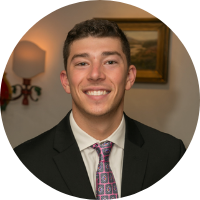 Adam Kahn
Board Member
Serving since 2019
Adam Kahn has been a member of The Arc of King County Board of Directors since October 2019. Adam had a close friend pass away after spending many years struggling with a disability. He saw firsthand how important organizations are that serve those in the community with intellectual/developmental disabilities. 
Adam is from Terre Haute, Indiana and attended Indiana University. After graduation, he moved to Seattle to go out of his comfort zone. He worked in technology specializing in Cloud & Infrastructure. He is looking forward to contributing to the technology strategy at The Arc of King County.
Adam is currently exploring career opportunities in a variety of fields. In his free time, he likes to snowboard, play tennis, climb at the local bouldering gyms, read varying genres of books, and work on his and friends' cars. He is an avid Chicago Bulls fan and tries to watch every game; at least the highlights on games he cannot view.