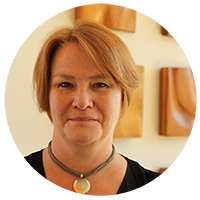 Ramona Hattendorf
Director of Advocacy
Serving since 2016
Ramona Hattendorf came to disability rights after a decade advocating to close education gaps in Washington schools. Her first career was in journalism, working for newspapers large and small in Idaho, California, Pennsylvania, Virginia and Illinois. More recently she has worked in marketing, government relations and civic engagement, specializing in helping people develop and analyze policy proposals and engage with elected leaders.
She was an active parent volunteer for years, serving as president of the Seattle Council PTSA, where she helped mentor Parent -Teacher Association/Parent-Teacher-Student Association leaders across the city, and helped found the Washington Family Engagement Trust. She teaches the public policy sequence for the Parent Leadership Training Institute at Everett Community College.
She serves on the public policy committee for the Washington Low Income Housing Alliance, and served as governor appointee to the Career Education Opportunities Task Force, as well as on the state steering committee for Washington's Teacher and Principal Evaluation Project, and the state's Ready and Successful School Work Group.
She first started working on disability issues as a government relations coordinator working with parents statewide to implement social emotional learning; positive behavior interventions and supports; equity, access and opportunity for students with disabilities; and ending use of restraints and isolation.
At The Arc, she oversees Community Change Champions, an activist program for people with disabilities, and the King County Parent and Family Coalition. She also produces news and education materials to help people understand and engage in public policy. She studied journalism and international relations at the University of Southern California, earning her bachelor of arts degree in 1987.