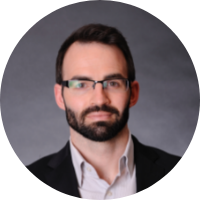 Brian Daley
Microsoft
Director since 2021
Brian joined the Board of Directors for The Arc of King County in May 2021.  He currently sits on the Finance and IT committees.  In the early 2000s, he worked at The Arc of Spokane as a representative payee.  Brian has a family member with a disability and wanted to get involved with an organization that helps families navigate care transitions from parent to sibling. 
Born in New York but having grown up in Washington, Brian considers himself a Pacific Northwesterner.  He received his BA and MBA from Gonzaga University and completed his graduate work –modern European history – at DePaul University and the University of Alberta.  After leaving academics, he spent some time as a big data consultant before returning to the PNW to take a role at Microsoft.  Brian is excited to bring his financial and operational skills to the board and its committees.
In his spare time Brian likes to read, do puzzles, and spend time with his family.  He enjoys travelling and is excited to see how travels will change now that his 7-month-old will join him and his wife.  The plan will be to start small and see how it goes from there.