Inclusion Festival: All About Bugs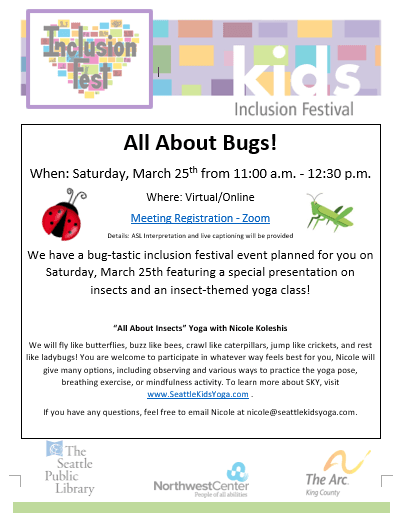 We have a bug-tastic inclusion festival event planned for you on Saturday, March 25th featuring a special presentation on insects and an insect-themed yoga class!
Register now here:
https://us06web.zoom.us/meeting/register/tZIpdOCpqDgvHtN4UYDlMWzQKPOVO14IaMnr
More Info: Our Bug Talk will be led by insect enthusiast Peter Jung from the Arc of King County, who will be sharing photographs of bugs and talk about how important bugs are to our environment. Seattle Kids Yoga founder Nicole Koleshis will be leading an "All About Insects" themed yoga class. We will fly like butterflies, buzz like bees, crawl like caterpillars, jump like crickets, and rest like ladybugs! You are welcome to participate in whatever way feels best for you, Nicole will give many options, including observing and various ways to practice the yoga pose, breathing exercise, or mindfulness activity. To learn more about SKY, visit www.SeattleKidsYoga.com, and if you have any questions, feel free to email Nicole at nicole@seattlekidsyoga.com.
If you have any questions about Inclusion Fest, email inclusionfestkingcounty@gmail.com .