Wednesday Webinar: Disability and Trauma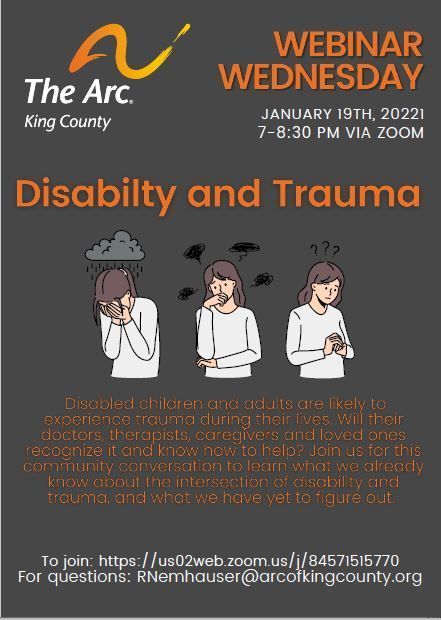 The Arc of King County's Webinar Wednesday presents DISABILITY AND TRAUMA, a community conversation to learn what we already know about the intersection of disability and trauma, and what we have yet to figure out.
January 19th, 2022, 7-8:30pm via zoom.
To join: https://us02web.zoom.us/j/84571515770
Disabled children and adults are likely to experience trauma during their lives. Will their doctors, therapists, caregivers and loved ones recognize it and know how to help?
No RSVP is needed. Contact RNemhauser@arcofkingcounty.org for questions, or to request accommodations/language interpretation.
[Image Description: The flyer is charcoal gray with orange and white text. There are three line drawings of a young woman in a long-sleeve white shirt experiencing varying emotions. In the first drawing she's covering her face with her hands and crying while standing under a raincloud, in the second she has four dark thought clouds surrounding her head, and in the third, she has a worried expression on her face and three question marks hovering over her head.]