Webinar Wednesday: Health Relationships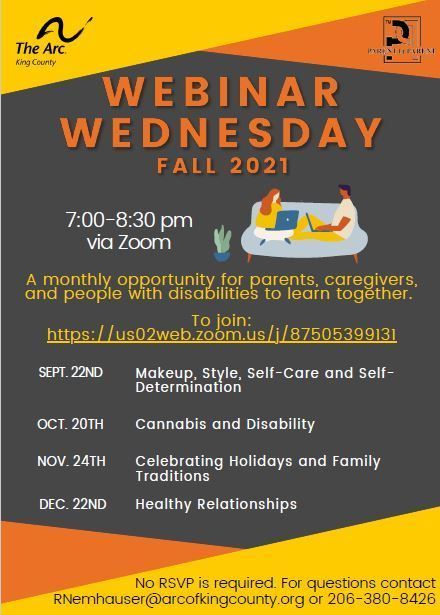 A monthly opportunity for parents, caregivers, and people with disabilities to learn together.
The fourth Wednesday of each month, 7-8:30 pm via Zoom
Sept. 22nd - Makeup, Style, Self-Care and Self-Determination
Oct. 20th - Cannabis and Disability
Nov. 24th - Celebrating Holidays and Family Traditions
Dec. 22nd - Health Relationships
To join: To join: https://us02web.zoom.us/j/87505399131
No RSVP is required to attend. Contact RNemhauser@arcofkingcounty.org or 206-829-7046 for questions, language interpretation, or to request accommodations.
(Image description: The flyer is brown, yellow, and orange. The texts are orange, yellow, white, and black. On right side, there is a clipart of a woman and man looking at their blue laptops on the blue couch. The woman is wearing a yellow long-sleeved shirt with her long orange hair. She has her laptop on a white pillow on her lap. The man is wearing a white short-sleeved shirt and yellow pants. He has short black hair. He sitting side on the couch with his legs straighten. There is a plant on left beside the couch.)