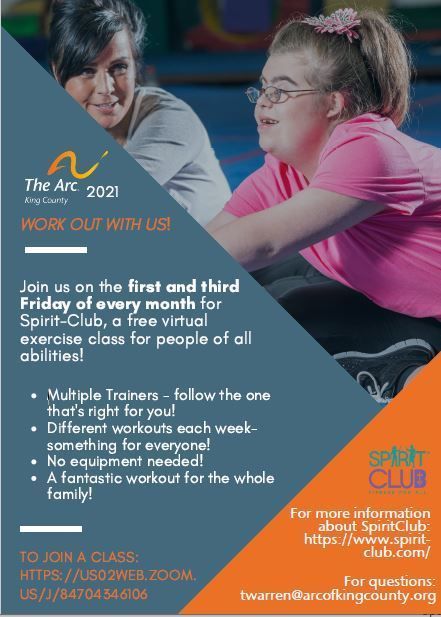 Join us on the first and third Friday of every month for Spirit-Club, a free virtual exercise class for people of all abilities!
Multiple Trainers - follow the one that's right for you!
Different workouts each week something for everyone!
No equipment needed!
A fantastic workout for the whole family!
TO JOIN A CLASS:
HTTPS://US02WEB.ZOOM.US/J/84704346106
For more information about SpiritClub: https://www.spiritclub.com/
For questions: twarren@arcofkingcounty.org
(Image description: The flyer is dark green with orange and white texts. The picture on upper left is showing a woman in gray long-sleeved shirt watching a young lady stretching in the gym. The lady is leaning forward with her arms forward and sitting with her legs crossed. She is wearing glasses, pink short-sleeved shirt, black pant, and black shoes with hair tied in back.)