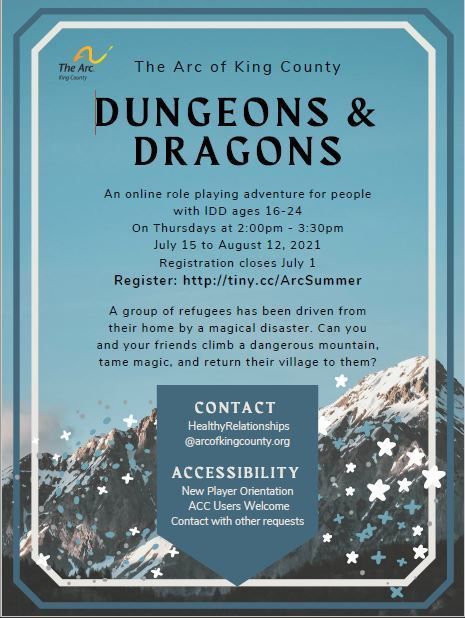 An online role-playing adventure for people with IDD ages 16-24
On Thursdays at 2:00pm - 3:30pm
July 15 to August 12, 2021
Registration closes July 1
Register: http://tiny.cc/ArcSummer
A group of refugees has been driven from their home by a magical disaster. Can you and your friends climb a dangerous mountain, tame magic, and return their village to them?
Contact
HealthyRelationships@arcofkingcounty.org
Accessibility
New Player Orientation
ACC Users Welcome
Contact with other requests
What is Dungeons & Dragons?
D&D is a collaborative fantasy storytelling game. Each person plays a character with different skills. The Dungeon Master (an Arc staff member) creates the world, rules, and plot and describes what is happening. The rest of players decide what their characters want to do. If they are using a skill or attack, they have to roll a 20-sided die to find out how well it goes. The goal is to explore together and have fun.
All you need to play is your imagination, a character sheet (that we will help you create), and dice (that we will send to you for free). If reading a character sheet is not fun for you, Arc staff will help you can play without one.
Each player will have a pre-game meeting with Arc staff to build a character, explain the rules, get familiar with the dice and character sheet, and ask questions.
Check out this video for more information:
Dungeons and Dragons, explained by Vox (10 minutes) (Spanish Subtitles)
https://www.youtube.com/watch?v=2PEt5RdNHNw
(Image Description: A flyer with a photo of blue sky and snowcapped mountains as the background. The text is written in the sky and on a dark blue banner at the bottom.)