A Month Long Virtual Inclusion Festival: Stories and Art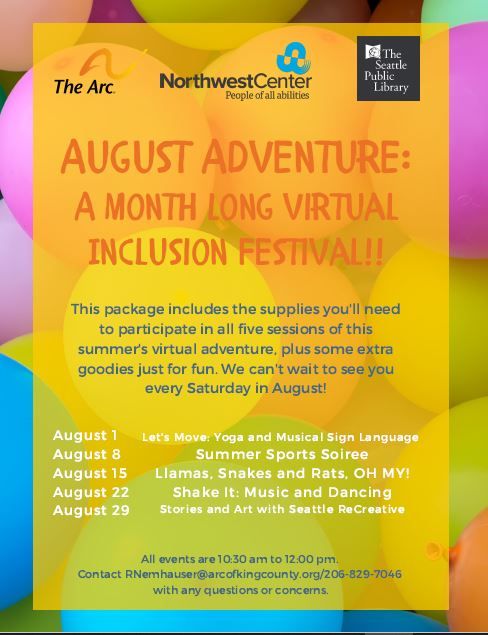 August Adventure: A Month Long Virtual Inclusion Festival!!
This package includes the supplies you'll need to participate in all five sessions of this summer's virtual adventure, plus some extra goodies just for fun. We can't wait to see you every Saturday in August!
Join us from 10:30 am to noon every Saturday in August via Zoom for interactive, hands on fun for children of all ages and abilities!
August 1: Let's Move: Yoga and Musical Sign Language
August 8: Summer Sports Soiree
August 15: Llamas, Snakes and Rats, OH MY!
August 22: Shake It: Music and Dancing
August 29: Stories and Art with Seattle ReCreative
Registration by July 2oth is required.
All supplies will be provided, along with amazing swag and other surprises! There's something for everyone!
For questions: RNemhauser@arcofkingcounty.org/206-829-7046
To RSVP: https://inclusionfestival2020.eventbrite.com