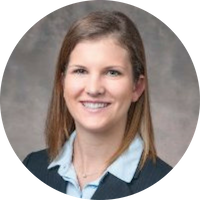 Katie Hurt
Attorney, Cassady Mineiro, PLLC
Director since 2016
Katie Hurt has been a member of The Arc of King County Board of Directors since 2016. Katie grew up in the disability community. From a young age when her brother was diagnosed with Autism, she honed her advocacy skills on behalf of her brother and their friends from the playground to the classroom to school board meetings and now with School Districts, Social Security Administration, and the Courthouse. She attended the Experimental Education Unit (EEU) with her brother as a student in the preschool classroom and later returned in 2006 to be a teacher's assistant. She understands first-hand the struggles, joys, and needs of families impacted by disabilities. She pursued a profession in law to meet some of the more complex and lesser understood needs of these families.
Katie is passionate about providing professional advocacy to parents and individuals in the disability community as well as providing educational presentations in the areas of assisted decision-making including guardianship and powers of attorney, state and federal benefits programs including DDA and SSA benefits, estate planning, Special Needs Trusts and ABLE accounts, as well as a variety of topics pertaining to special education. 
Katie Hurt was named a Super Lawyer Rising Star for 2019 - 2021. 
In her free time, Katie enjoys skiing, reading, gardening, and taking her kids on adventures to different parks.