The Arc of King County Healthy Relationships Program - Seattle (Ages 18-24)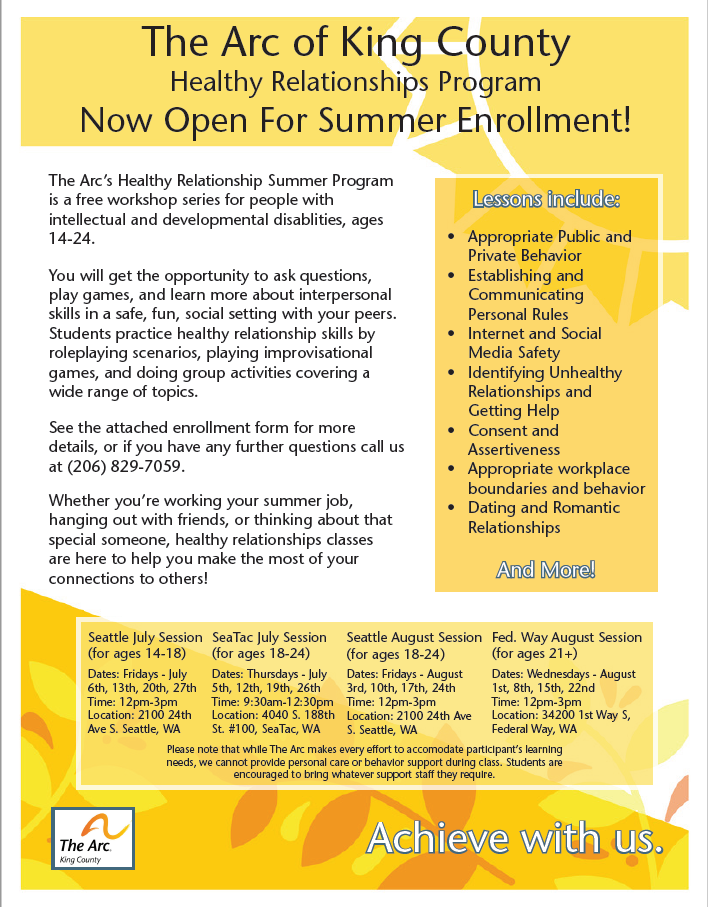 The Arc's Healthy Relationship Summer Program is a free workshop series for people with intellectual and developmental disabilities, ages 14-24.
You will get the opportunity to ask questions, play games, and learn more about interpersonal skills in a safe, fun, social setting with your peers. Students practice healthy relationship skills by role playing scenarios, playing improvisational games, and doing group activities covering a wide range of topics.
See the attached enrollment form for more details, or if you have any further questions call us.
Whether you're working your summer job, hanging out with friends, or thinking about that special someone, healthy relationships classes are here to help you make the most of your connections to others!
Lessons include:
• Appropriate Public and Private Behavior
• Establishing and Communicating Personal Rules
• Internet and Social Media Safety
• Identifying Unhealthy Relationships and Getting Help
• Consent and Assertiveness
• Appropriate workplace boundaries and behavior
• Dating and Romantic Relationships
Please note that while The Arc makes every effort to accomodate participant's learning needs, we cannot provide personal care or behavior support during class. Students are encouraged to bring whatever support staff they require.