Parent Connection: A Helping Parent Training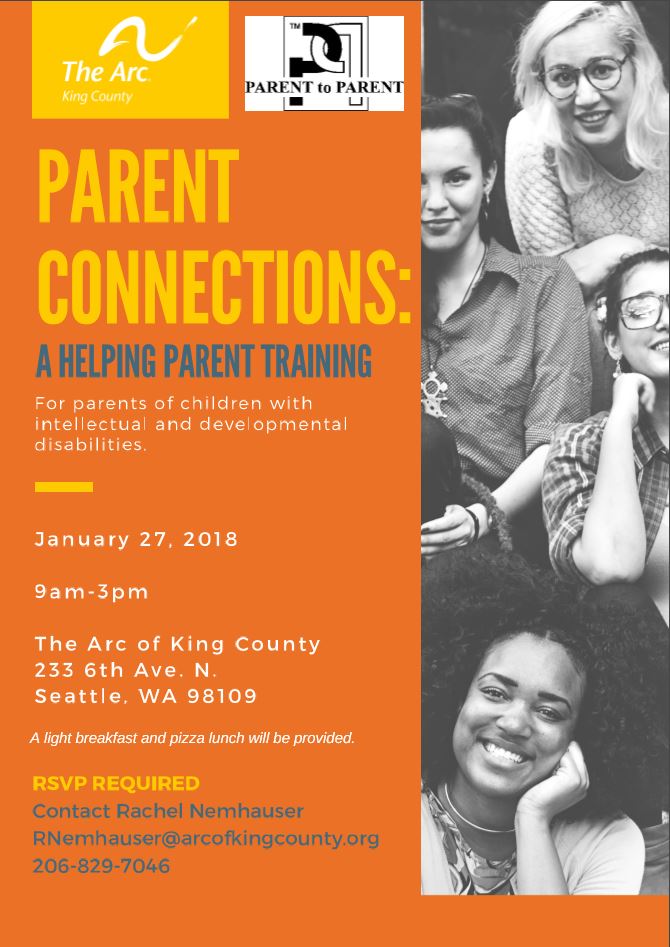 Parent Connections: A Helping Parent Training
For parents of children with intellectual and developmental disabilities.
January 27th, 2018
9am - 3pm
The Arc of King County
233 6th Ave N
Seattle WA, 98109
A light breakfast and pizza lunch will be provided.
RSVP is required - Contact Rachel Nemhauser at RNemhauser@arcofkingcounty.org or 206-829-7046.
Can you offer another parent hope for their child's's future, along with tips on finding resources and support?
Would you be good at providing emotional support to another parent whose child has a similar diagnosis as your own?
You may make an excellent Helping Parent!
Join Parent to Parent Supervisor  Rachel Nemhauser for this day-long opportunity to explore our own experiences, and learn how to use those experiences to support other parents.
Our program is based on the philosophy that parents and grandparents of children and adults with disabilities can be helped by other parents and grandparents who have traveled the road before them. We understand the emotions, myths, and realities of loving a child with a disability. We don't necessarily solve a family's problems, but we are willing to listen and share our own experiences. This training provides strategies and resources so you can be the most knowledgeable and compassionate resource to other parents like you.