18th Annual Diversity Employment day Career Fair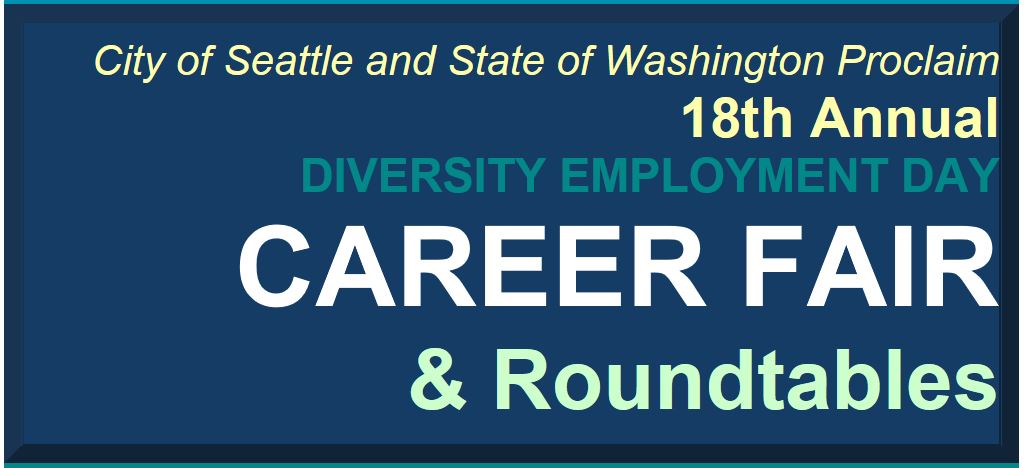 HR Directors, Staffing/Compliance Managers and Recruiters
Planning to actively support your corporate Diversity Recruitment Initiative in 2018? 
Seeking to build a Workforce that truly reflects all the communities you serve?
Want to stay compliant with EEO and OFCCP guidelines?
Then you'll want to join over 500 major corporations, government agencies and non-profits that regularly and successfully outreach and hire quality candidates at the 18th Annual Diversity Employment Day Career Fair and Diversity Roundtables taking place in Seattle and most major cities across America. This is Seattle's largest and best Diversity & Inclusion recruiting event.
We invite you to Prebook and join most major Seattle employers to take advantage of our lowest once-a-year DED Career Fair rates. Save up to 50% when you Prebook by the deadline.
As many of you have requested in the past, we're happy to announce that in 2018 - along with our focus on the Multicultural and Diverse Communities in your areas - we will have an additional focus upon Women, People with Disabilities, LGBTQ, Veterans and Mature Workers!
 
Building a workforce that reflects all the communities you serve, will provide you with a significant business advantage over your competitors in the marketplace.
All of our Career Fairs have drawn between 800 - 1,500 candidates ranging from professional to entry level candidates. Our average candidate has three to five years work experience and/or a college degree.  PLUS our unique SEARCH & INVITE™ methodology assures you will interview candidates you'll want to hire!
 
At the conclusion of our DED Career Fairs we provide employers with an Annual Certification
and Team Photo that documents for internal/external - EEOC and/or OFCCP type audits - Your Good Faith Efforts verified by a second party.
 
You will also be invited to our Diversity Practitioners Roundtable taking place before most of our Career Fairs. Here you will learn and share best practices with:
Chief Diversity & Inclusion Officers
Key Thought Leaders
Peer Panelist
Local EEOC & OFCCP Representatives
Professional and Community Based Organization 
And More
Take a Leadership Role and be a sponsor of your City's Diversity Practitioners Roundtable and/or Diversity Spirit Achievement Awards. 
We are currently PreBooking the 18th Annual Diversity Employment Day Career Fair and Diversity Practitioners Roundtable.  PreBook by November 30th and save! Or better yet save even more by PreBooking multiple Career Fairs and receive a FREE FULL PAGE ad in the Career Fair guide and your corporate logo placed upon our City Page. 
18th Annual Diversity Employment Day Career Fair for City of Seattle
January 17th, 2017 - Seattle Center - Seattle
17th Annual Diversity Employment Day Career Fair 
State of Washington, King County, and City of Kent
July 18th, 2017 - ShoWare Center - Kent
For more details email prebook@citycareerfair.com.
Thanks again for building a workforce that reflects ALL the communities you serve.