Legislative Briefing and Community of People with Disabilities Reception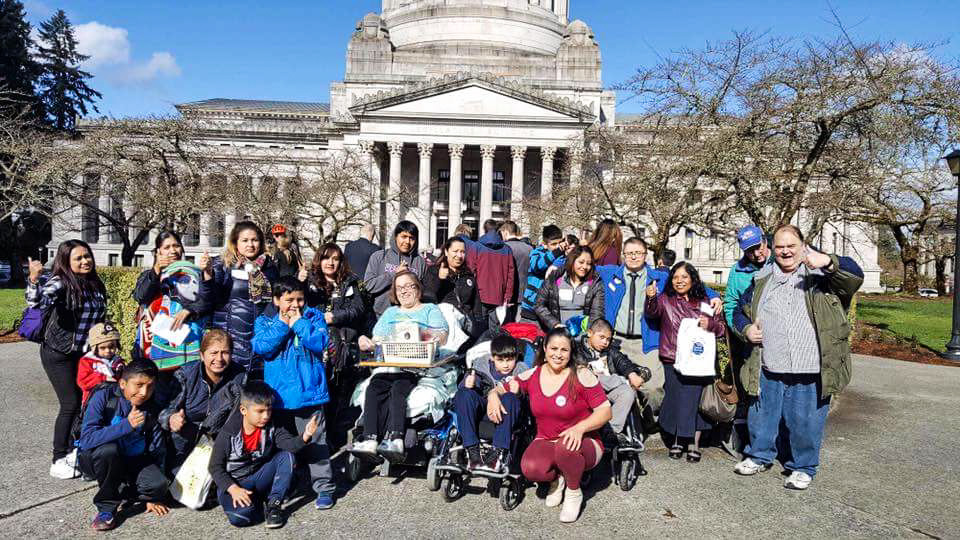 Join us in Olympia for this great opportunity to meet with legislators and talk about a bill or issue you support. Not sure what bills you support? Then join advocates earlier in the afternoon for a legislative briefing.
The legislative reception has a meet-and-mingle format, perfect for conversation.
Details:
Legislative briefing: 2 to 4 pm at United Churches of Olympia,110 11th Ave SE, Olympia, WA 98501. NOTE: This is across the street from the Capitol Campus
Dinner on your own: 4-5:30 pm
Legislative reception: 5:30-7 pm, Columbia Room, Legislative Building, Washington State Capitol, 416 Sid Snyder Avenue SW, Olympia, WA 98504
Every year, developmental disability advocates host a legislative reception, followed by weekly Advocacy Days on Wednesdays during the state legislative session. These events are co-hosted by The Arc of Washington and the Washington State Developmental Disabilities Council.
Our theme this year is "In Harmony" as we encourage legislators to champion bills/budget items that are important to people with developmental disabilities. We want to work in harmony with legislators to ensure services and supports are maintained. A new button with a musically themed message will be distributed to legislators each week on Advocacy Days.
Join us at the United Churches for a legislative briefing on this year's disability advocacy issues. (Held from 2 to 4 pm.) Go have dinner, then attend the legislative reception, which will be held in the Columbia Room in the Capitol Building from 5:30 to 7:30 pm.
If you want help finding a carpool, please use the Advocacy Days registration link, below.