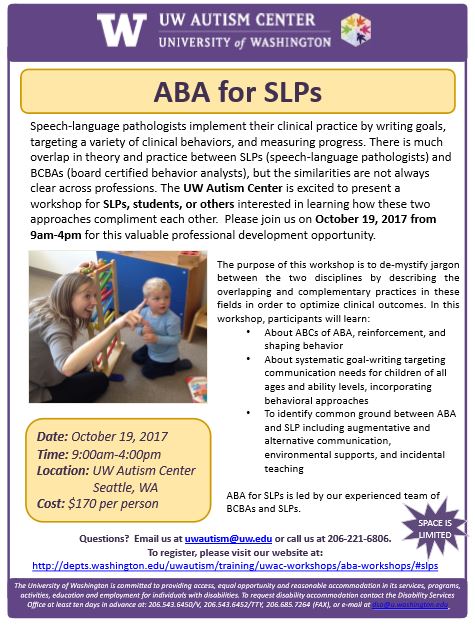 Speech-language pathologists implement their clinical practice by writing goals, targeting a variety of clinical behaviors, and measuring progress. There is much overlap in theory and practice between SLPs (speech-language pathologists) and BCBAs (board certified behavior analysts), but the similarities are not always clear across professions. The UW Autism Center is excited to present a workshop for SLPs, students, or others interested in learning how these two approaches compliment each other. Please join us on October 19, 2017 from 9am-4pm for this valuable professional development opportunity.
ABA for SLPs
Date: October 19, 2017 Time: 9:00am-4:00pm Location: UW Autism Center Seattle, WA Cost: $170 per person
The purpose of this workshop is to de-mystify jargon between the two disciplines by describing the overlapping and complementary practices in these fields in order to optimize clinical outcomes. In this workshop, participants will learn:
• About ABCs of ABA, reinforcement, and shaping behavior
• About systematic goal-writing targeting communication needs for children of all ages and ability levels, incorporating behavioral approaches
• To identify common ground between ABA and SLP including augmentative and alternative communication, environmental supports, and incidental teaching
ABA for SLPs is led by our experienced team of BCBAs and SLPs. SPACE IS LIMITED.
Questions? Email us at uwautism@uw.edu or call us at 206-221-6806. To register,please visit our websiteat: http://depts.washington.edu/uwautism/training/uwac-workshops/aba-workshops/#slps