Diabetes Management & Proper Nutrition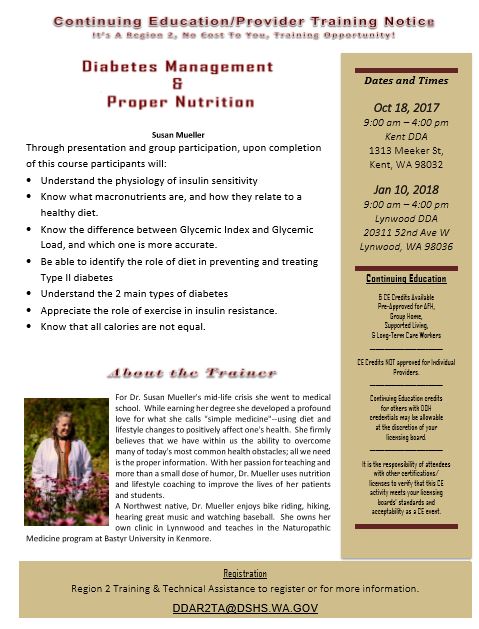 Through presentation and group participation, upon completion of this course participants will: Understand the physiology of insulin sensitivity Know what macronutrients are, and how they relate to a healthy diet. Know the difference between Glycemic Index and Glycemic Load, and which one is more accurate. Be able to identify the role of diet in preventing and treating Type II diabetes  Understand the 2 main types of diabetes Appreciate the role of exercise in insulin resistance. Know that all calories are not equal.
About the Trainer:
For Dr. Susan Mueller's mid-life crisis she went to medical school. While earning her degree she developed a profound love for what she calls "simple medicine"--using diet and lifestyle changes to positively affect one's health. She firmly believes that we have within us the ability to overcome many of today's most common health obstacles; all we need is the proper information. With her passion for teaching and more than a small dose of humor, Dr. Mueller uses nutrition and lifestyle coaching to improve the lives of her patients and students. A Northwest native, Dr. Mueller enjoys bike riding, hiking, hearing great music and watching baseball. She owns her own clinic in Lynnwood and teaches in the Naturopathic Medicine program at Bastyr University in Kenmore.
Registration Region 2 Training & Technical Assistance to register or for more information. DDAR2TA@DSHS.WA.GOV