2017 Co-Occurring Disorder & Treatment Conference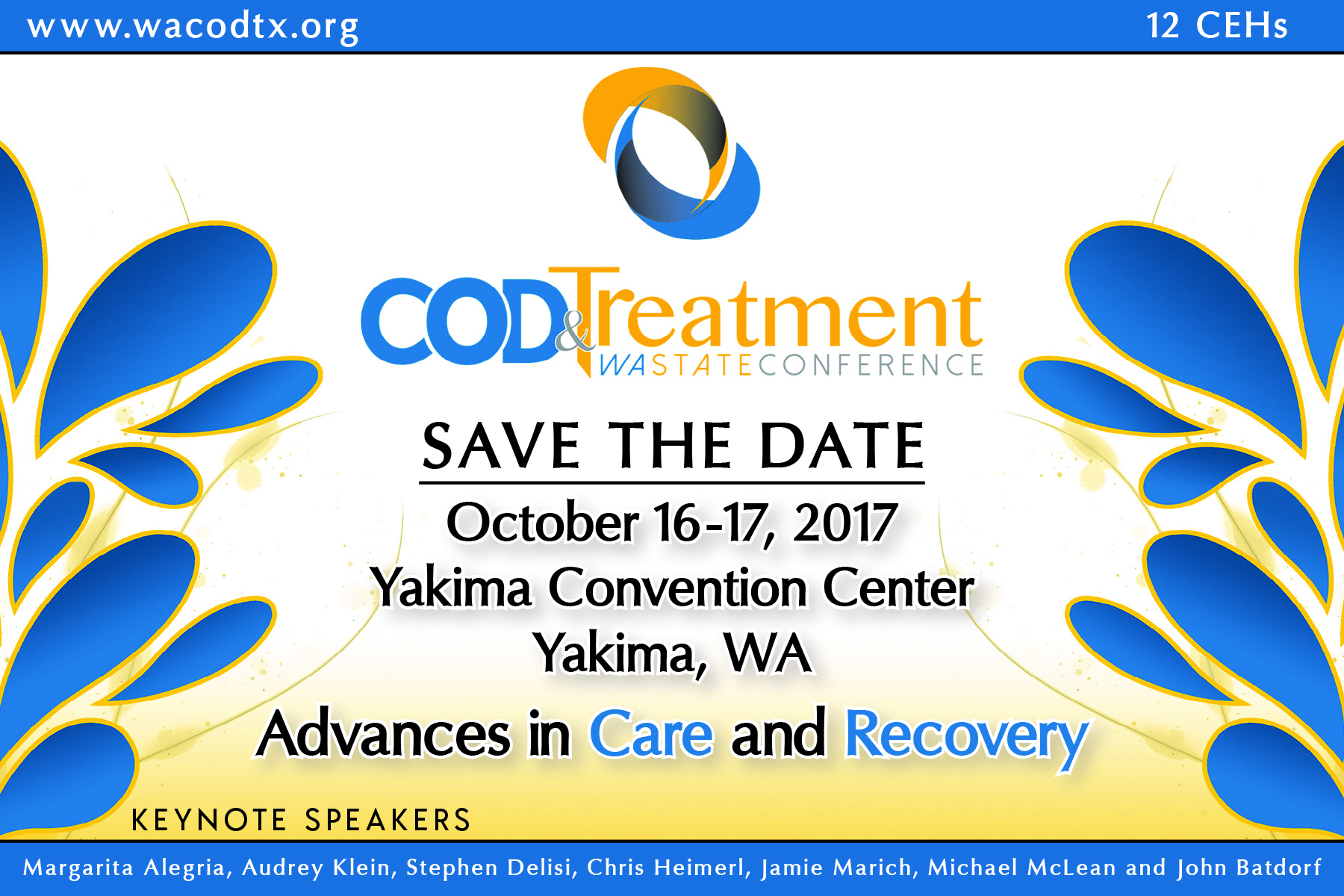 Registration is now open for the 2017 Co-Occurring Disorder & Treatment Conference, Oct 15-17, in Yakima. DDA is a conference partner once again and each region will get two free registration stipends. We are represented in the agency with a Keynoter- Chris Heimerl from New Mexico - and 5 DD-oriented workshop presentations. These are:
1) Sound Mental Health's STAR program (substance abuse treatment for adults with IDD)
2) Evelyn Dreyer on Aging-Related changes in Down Syndrome, including dementias
3) Gene McConnachie, Sandi Miller, and Phil Diaz on DDA's new Online PBS training modules and Certificate in Positive Behavior Support
4) Paul White on Supporting people with Challenging Behaviors in the Community
5) Chris Heimerl on "We Know This to be True"
Description: New Mexico closed its two state-operated facilities for individuals with ID/DD in 1997. Since 1994, Chris has held a unique position from which to observe and influence the unfolding of community support that effectively addresses the complex needs of individuals long believed to "need" secure, congregate care. In 2000, a set of indicators were identified that we assert are essential considerations when designing and implementing community support, including crisis response capacity. We devised an information gathering process that considers a thorough accounting of an individual's quality of life. Chris will describe the protocol and share their findings over the last 15+ years.
Chris Heimerl's Keynote Description: "Through our Hands" – Tuesday Morning Oct 17
Chris draws inspiration from John Hiatt's lyrics to guide us through turbulent times. What values and practices will we hold most dearly as we enter unprecedented uncertainty in our lives and our life's work? Chris began his career addressing the fallout faced by countless individuals when mental health commitment laws discharged them into our communities without resources or support in the late 60's. Since the early 70's he has participated in a handful of states transition from reliance on institutional care to community support. From the emergence and decline of block grants to the dominance in the ID/DD world of Home and Community Based Waivers, there are threads that may sustain our efforts and create unforeseen opportunities. It will begin and end Through Our Hands
Also, on Sunday Oct 15th there are two pre-conference workshops with CE credits, Ethics ($30 fee), and, FREE- Suicide Risk Assessment, Prevention, Intervention and Management Training